Is the American system broken?
Tom Friedman's latest column is a bit of a polemic about the current state of American politics, which he compares with the "poisonous" environment in Israel that led to Rabin's assassination.  Friedman writes:
But a cocktail of political and technological trends have converged in the last decade that are making it possible for the idiots of all political stripes to overwhelm and paralyze the genius of our system.  Those factors are: the wild excess of money in politics; the gerrymandering of political districts, making them permanently Republican or Democratic and erasing the political middle; a 24/7 cable news cycle that makes all politics a daily battle of tactics that overwhelm strategic thinking; and a blogosphere that at its best enriches our debates, adding new checks on the establishment, and at its worst coarsens our debates to a whole new level, giving a new power to anonymous slanderers to send lies around the world.
Friedman argues that these factors have "overwhelmed the genius of the American system."  However, it's not clear to me that most of these developments do anything to change the fundamental problem which was addressed at the founding: the dangers of factions competing bitterly against each other for poltiical control.  While the tools may have changed, the problem has not.
The "checks and balances" of which every high school student are familiar curb the power of factions by, first, significantly slowing the policy process and, second, by ensuring some level of constitutional review over laws passed.  This system is, contra Friedman, still in place — the glacial pace of health care reform is one example.
What Friedman is really getting at is whether we have the right system set up, as it might be working too well in maintaining the status quo.
-John
I wrote a Christian Science Monitor piece on the relationship between neoconservative foreign policy and Obama. Check it out.
-Jake
The Ethicist over at the New York Times has an interesting post on the public policy debate over a tax on soda.  Check it out.
-Marc
The limits of religious freedom

America's two million Jews observed Yom Kippur yesterday.  As it fell on a Monday, most were forced to use a precious vacation day to celebrate the most holy of days on the Jewish calendar.  America's Christians face no similar situation.  Christmas is a Federal holiday and many workers and students get off a day around Easter weekend as well.
It has been suggested that this represents a violation of religious freedom: Christians get a day off of work for their major holidays, Jews and other minority religions do not.  Let us consider whether this is the case. Read more
Keep your friends close and  your enemies–where?
Muammar Qaddafi (whose name has withstood all attempts at an official spelling) had a lot of trouble finding a place to stay this past Wednesday, as his planned locale, Donald Trump's 213-acre estate in Bedford, New York, had cancelled on him.
The longtime Libyan leader gave a lengthy speech to the U.N. Security Council and faced a bit of backlash from Americans after his inflammatory remarks and recent congratulatory welcoming of Abdel Baset al-Megrahi, who was responsible for the bombing of PanAm 103 and the deaths of 270 people.  Trump's estate, which had already begun constructing a series of large tents for Qaddafi (he has a fear of elevators and prefers this sort of arrangement), was the last of several New York-area venues to reject the leader's requests for lodging.
Qaddafi met with local opposition at each proposed spot. Read more
Who's less rational–Washington or Wall Street?
National Review editor Kevin Williamson attacks the one-sided application of arguments about investor irrationality to justify government regulation of private markets:
The fallacy implicit in the conventional argument for more robust financial regulation is that animal spirits – the whole menagerie of greed, panic, pride, thrill-seeking, irrational exuberance – distort only profit-seeking activity. But they are at least as likely to distort efforts to regulate profit-seeking activity. In truth, the animal spirits of regulators probably are more dangerous than those of Wall Street sharks: Competition and the possibility of economic loss constrain players in the marketplace, but actors in the political realm have the power to compel conformity and uniformity among those under their jurisdiction. The entire economy is yoked to their animal spirits, and the housing bubble was a consequence of that fact. We have bred an especially dangerous hybrid creature in the "too big to fail" private corporation, the bastard offspring of a union between Wall Street's animal spirits and Washington's.
Williamson makes a good point.  Politicians to do not soberly survey the landscape and objectively diagnose the causes of our financial ills.  They are instead attempting to respond to and even anticipate outraged constituents.  They're also jostling with each other to have the most dramatic, headline-grabbing "deliverable" in today's cluttered national spotlight.
Because they say so.
Michael Walzer and Nicolaus Mills write an interesting, but ultimately vapid piece in The New Republic not on just and unjust wars, but rather on just and unjust withdrawals. The topic of the piece is fascinating; it's a moral question with real policy implications (re: Iraq and Afghanistan).  The content is mostly empty, however, because Walzer and Mills make moral assertions, not moral arguments.  Below are their moral claims, including all their justificatory reasoning (or lack thereof).
Their macro concern:
Nations carefully plan for wars. They mobilize support for them. But typically they rush into withdrawals, which they commonly see as signs of failure. Think, for example, of Great Britain's hasty retreat from India in 1947 and the estimated one million people who died following partition.
The role of satire in politics
If you don't know by now how important Jon Stewart, Stephen Colbert, and Bill Maher have become to political discourse in America, you must be living in a cave (or even worse, without cable).  Each comedian has his own style – Maher the most polemic and serious of the bunch, Stewart letting expertly-spliced clips of the day's pundits and politicians do much of the work for him, and Colbert relentlessly sticking to his over-the-top play on conservative commentator Bill O'Reilly.
Political humor has caught on, so much so that a recent internet poll by TIME magazine, asking "Now that Walter Cronkite has passed on, who is America's most trusted newscaster?", identified Stewart as the clear winner, with 44% of the vote, ahead of Brian Williams, Charlie Gibson, and Katie Couric. Read more
Does the history of ancient Greece tell us anything about the modern debate regarding gay marriage?  No.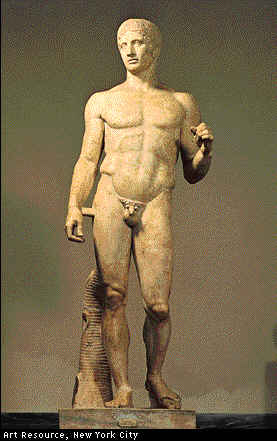 Emily Wilson has a book review of James Davidson's Greek Love, a new exploration of the varieties of homosexuality in ancient Greece.  I have not read the book itself (which sounds worthwhile), but the review reveals some confusion that may be typical of Liberal commentators on this issue.
Before going further, let me state for the record that I am in favor of full marriage rights for all, or the abolition of state-sanctioned marriage altogether. Good.
Wilson writes:
In short, there was no single "traditional" way to conduct same-sex relationships in ancient Greece. This fact in itself might make us leery of any claims about what a "normal" or "traditional" domestic setup might look like.  Any claim about "the way things have always been" is liable to be false.
But this itself is simply false, as her own reading reveals!  Davidson's history reveals that there are indeed normalized views of love — his work shows only that there are many, many versions of tradition across Greece.  There was indeed no normalized "Greek" view of homosexuality, but there certainly were customs and traditions in each city state that were no doubt powerfully prescriptive to their populations.
Wilson argues contra Foucault that "it really does not matter whether any Greeks thought of themselves as 'gay.'"  While this is surely true, in the modern context it certainly does, and the inevitability of this distinction forms the basis of the best arguments for gay marriage.  WIlson has revealed only that it would be possible to think about homosexuality differently than we do now.  Given that, her conclusion makes less sense:
Whatever public legitimacy was, or was not, granted to same-sex relationships in any previous culture, it would still be entirely unjust, within the terms of our own society, to deny homosexual couples the legal status available to heterosexual relationships.
Wilson is walking the fine line trodden by many historians and sociologists.  Wilson's conclusion is an explicit value judgment which is grounded in her own time and place and, of course, her Liberal values.  However, the sweep of history reveals in no way that gay marriage should be justified, or even that it has been — that argument, which again I agree with, should be rooted in universal values.  Davidson's excellent history should be left to stand on its own, without a modern political agenda which it cannot support.
-John
Whose freedom matters?
In a speech that got little play today (probably because the news broke last week), FCC Chairman Julius Genachowski proposed a rule known as "net neutrality."  According to the proposal, "broadband providers cannot discriminate against particular Internet content or applications. This means they cannot block or degrade lawful traffic over their networks, or pick winners by favoring some content or applications over others in the connection to subscribers' homes."
The proposal was met with widespread concern from internet providers who say that the government shouldn't limit their freedom to manage their networks, particularly when they are increasingly at risk of being overwhelmed by bandwidth-hungry websites and applications.  Consumer groups, on the other hand, argue that net neutrality is necessary to prevent internet providers from controlling access to what people can see or do on the internet.  For example, without net neutrality, providers could potentially restrict or significantly slow access to certain websites or services like BitTorrent or online gaming.  In theory, a company could slow down access to a video streaming site like Netflix while promoting their own video service with faster speeds.
What is particularly interesting about this debate is that both the case for and the case against net neutrality seem to rest on a freedom argument.  Consumer groups argue that the internet should be free of restrictions.  The network providers argue that they should be free to manage the networks they own.  So who's freedom matters more? Read more